fun in-house classes and e-learning
Norwegian Classroom Course
B1 Intermediate level
Norwegian Classroom Course B1 is a Norwegian course suitable for anyone who wants to learn Norwegian in person, in a classroom environment. This is a blended learning course that combines classroom lessons twice a week with live online classes and e-learning materials. It also works well as an official test preparation course.
Learn Norwegian in Oslo, Bergen and Stavanger
This course combines local instructor-led classes (Oslo, Bergen and Stavanger) with online teaching and e-learning. You will attend group classes at one of our language centres and be instructed by one of our professional and inspiring teachers, while also gaining practice and meeting new people through live online classes. This maximises your opportunities to study and enables you to improve your language skills in a range of social situations.
This course can be used to prepare for the official Norskprøven exam. Norskprøven exam certificates can be used to obtain permanent residency (PR) or citizenship in Norway. If you not planning to take the Norskprøven, but collecting hours for PR or citizenship purposes instead, please note that hours spent on this Norwegian classroom course do not count towards PR hour collection. You will get a certificate when you complete the course, but this will not be valid for PR or citizenship applications in Norway.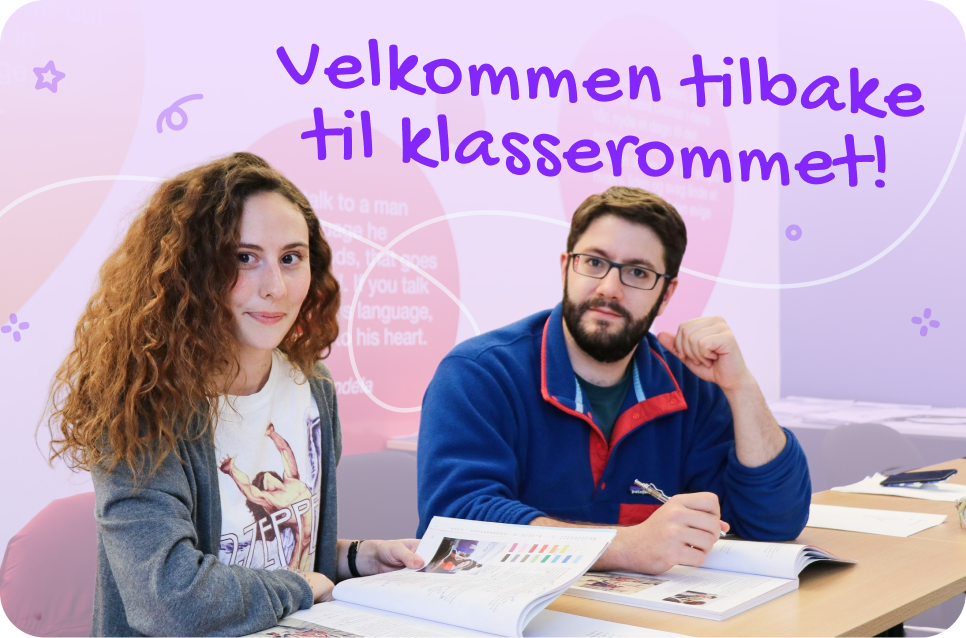 In addition to your classes, you will also get unlimited access to fun, effective and flexible learning through our game-based e-learning course Samanehs Reise.
Expected course duration: 12 weeks per level
Hybrid learning:
(classroom + drop-in online + e-læring)
Join a group course in one of our locations: in Oslo, Bergen or Stavanger, and combine best learning techniques to achieve your goal at your pace and in your learning style.
Lingu is a professional and experienced language course provider
With over 15 years of experience in teaching Norwegian, both in-person and online, Lingu stands out as an excellent choice for those looking to learn the language quickly and flexibly.
---
How do I pay?
You can choose to pay monthly, or pay for the whole course up front. You will get both options in the checkout, once selecting the course of your choice.
---
What is included?
59 hours in-house group classes
108 hours drop-in online classes
Unlimited access to Samanehs reise (e-learning)
15 assignments with review and feedback from a teacher
Total: 167 hours, on average 14 study-hours per week of live classes plus unlimited self-study time in addition.
---
What will I learn?
This course covers all the topics and learning objectives for the B1 level, giving you everything you'll need to pass the official language exam and master the language at this level. The target skills for each level are slightly different, but all course levels will enable you to build confidence and practice your speaking, listening and writing skills.
After this B1 course, you will be able to:
Improve writing skills and knowledge about Norwegian culture and society
Describe and handle both familiar and unpredictable situations
Describe future plans and desires and to express moods, feelings, and opinions
Make suggestions, proposals and discussing them
---
Objectives
The aim of this course is for you to be able to use the Norwegian language at the B1 level and to be able to pass the B1 level in the HK-dir Norwegian Exam, if this is your aim.
---
Instructors
Marius Gaarder Norsklærer
Frequently asked questions
We always make sure that the size of the premises is suitably comfortable for the class size we offer. The class size varies according to the venue and room size. Typically an in-house class at Lingu has 10-15 students. The reason why class sizes might be slightly dependent on the venue location is the fact that our varioust schools have different classroom sizes. 
Join our
free

language café

Do you want to improve your Norwegian and expand your network in Norway? Join our social events that are designed to give you the opportunity to speak and practice Norwegian with other people, and have fun! Completely free of charge and drop in with easy registration both online and at our language centers.
07 December Thursday

Anna Jelonek

12 December Tuesday

Anna Jelonek

13 December Wednesday

Beate Valberg

Birgitte Wiik

19 December Tuesday

Anna Jelonek