Fast-track Classroom Norskprøven A1
Fast-track Classroom Norskprøven A1 is a Norwegian course suitable for anyone who wants to take Norskprøven, the official Norwegian language test. This is a blended learning course that combines classroom lessons twice a week (in Oslo, Bergen or Stavanger) with live online classes and e-learning materials.
This course combines local instructor-led classes with online teaching and e-learning. You will attend group classes at one of our language centres and be instructed by one of our professional and inspiring teachers, while also gaining practice and meeting new people through live online classes. This maximises your opportunities to study and enables you to improve your language skills in a range of social situations.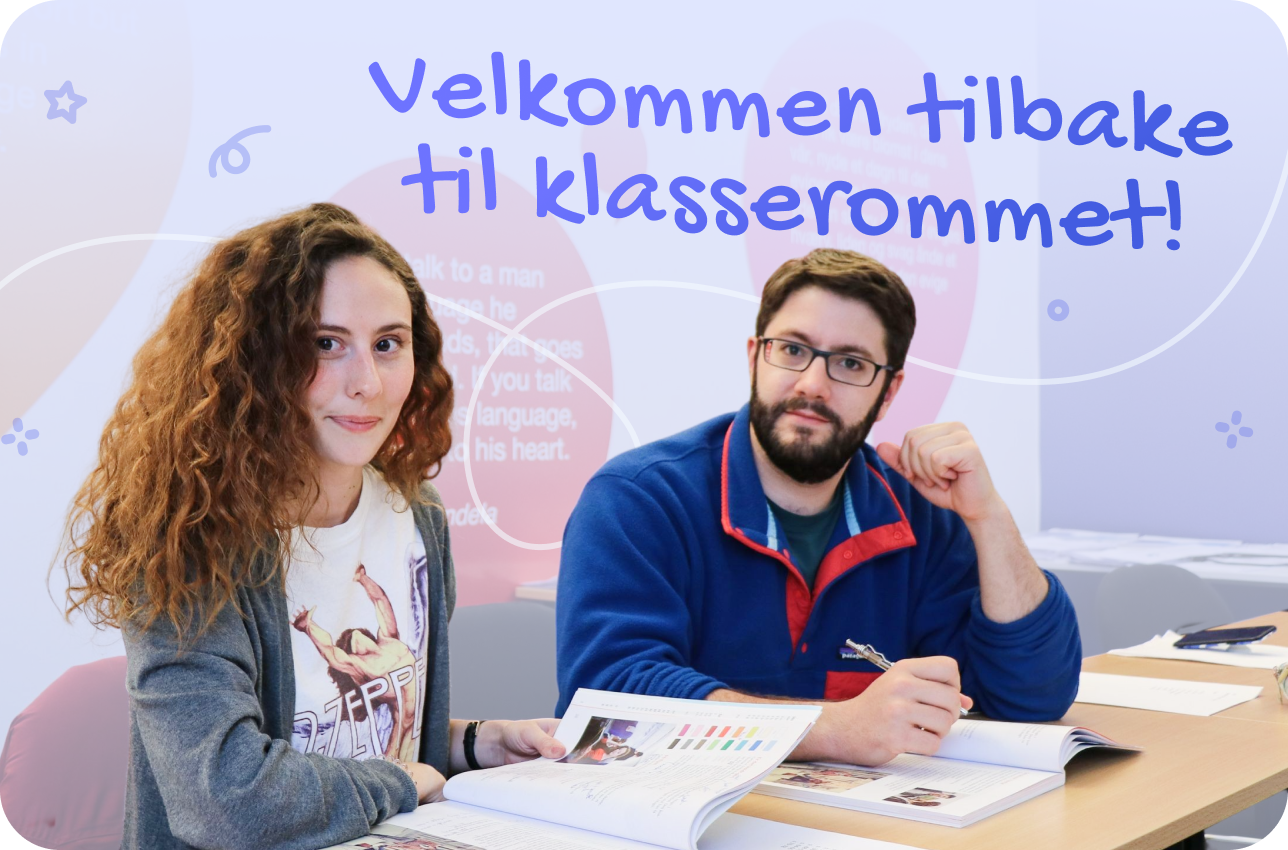 In addition to your classes, you will also get unlimited access to fun, effective and flexible learning through our game-based e-learning course Samanehs Reise.
This course lasts approximately 12 weeks per level (see group schedule for more information).
Blended learning
Classroom + drop-in online classes + e-learning.

Live classes available at our language centres located in Oslo, Bergen and Stavanger.
Approved course provider
Lingu is an approved language school. This means that the course certificate you'll receive can be used as documentation when applying for either permanent residence or citizenship in Norway.
How much does it cost?
This blended learning course contains both classroom and online classes, as well as e-learning course materials. The course fee is NOK 9,980.
What's included
64 hours of instructor-led, local classes
Up to 120 hours of drop-in online classes
Unlimited access to Samanehs Reise, Lingu's interactive e-learning course that follows the Norwegian curriculum
32 individual spoken and written assignments reviewed by a teacher
This totals 216 hours, or up to 18 hours per week.
What will I learn?
This course follows the official curriculum for Norwegian and Social Studies. It covers all the topics and learning objecitves for each level, giving you everything you'll need to pass the official language exam and master the language at your selected level. The target skills for each level are slightly different, but all course levels will enable you to build confidence and practice your speaking, listening and writing skills.
After this course, you will be able to...
Talk and write about personal relationships and general topics, including your family, home and personal finances
Describe yourself, your surroundings, your education and your job
Express wishes and feelings
Deal with situations relating to health and illness
Read and write simple texts and letters
Use basic grammatical structures correctly
Objectives
The aim of this course is for you to achieve A1 level in the HK-dir Norwegian Exam
Courses are held five times a year and are scheduled to end approximately 1-2 weeks before the Norskprøven takes place.
Frequently asked questions
The free Fast-track Norskprøven B1 level course will be for now available in: 



Stay tuned! if any other locations come to light, we will announce them here. 

The Norwegian Directorate of Integration and Diversity (IMDi) has decided that their financial support towards the course will be available for the courses of levels B1 and above. For now, we'll have only B1 levels of the Fast-track Norskprøven course available with the scholarship option. Stay tuned, we will announce different levels if the possibility arises! 

 

 

Yes, Lingu is an officially certified provider of Norwegian language courses for adult immigrants, and the course is approved for Norway's permanent residence purposes. 

Once you have completed the course, you will receive a course certificate with totals the number of hours you have attended. 

You can submit this certificate as documentation for your permanent residence permit application.

We always make sure that the size of the premises is suitably comfortable for the class size we offer. The class size varies according to the venue and room size. Typically an in-house class at Lingu has 10-15 students. The reason why class sizes might be slightly dependent on the venue location is the fact that our varioust schools have different classroom sizes. 

Yes, the Tast-Track Norskprøven course on the B1 level is now available completely for free! This means that you pay completely nothing as a participant. This is made possible thanks to support from the Norwegian Directorate of Integration and Diversity (IMDi), who will pay the course fee worth NOK 10000 for you. All you need to do is register, and the rest will be fixed for you by us. 

Enrolling on the B1 level of the Fast-track Norskprøven course is a simple and straightforward process. The best part is that the course is now completely free for you as a participant. This is made possible thanks to support from the Norwegian Directorate of Integration and Diversity (IMDi).

To secure a spot in the course, you need to apply for a course placement on Lingu's website. There, you will find a registration form where you can submit your application. All you need to do is fill out some basic personal details. By doing so, you will be one step closer to improving your writing skills with the help of your personal AI guide. We look forward to assisting you on your journey towards better writing skills!
Join our
free

language café

Do you want to improve your Norwegian and expand your network in Norway? Join our social events that are designed to give you the opportunity to speak and practice Norwegian with other people, and have fun! Completely free of charge and drop in with easy registration both online and at our language centers.
26 September Tuesday

Anna Jelonek

28 September Thursday

Anna Jelonek